Key Machines & Accessories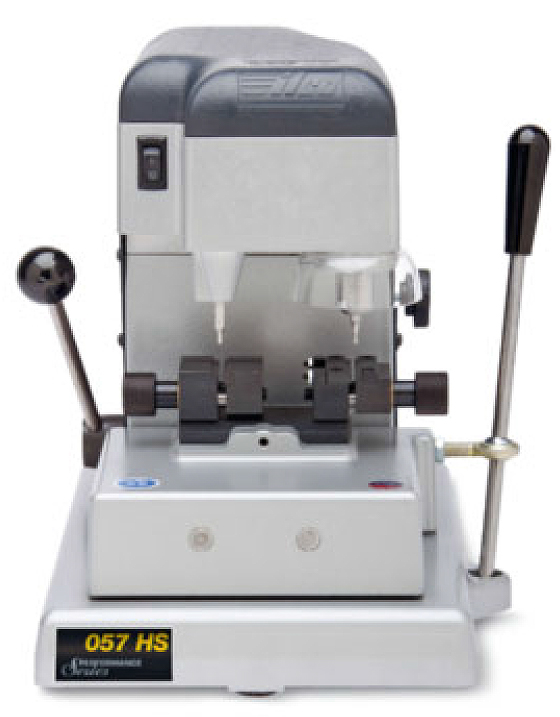 We carry key machines from names like HPC, Ilco and Silca. These are the world's number one leading providers of mechanical, electronic and semi-industrial machines, key cutting and origination machines, as well as duplication equipment. Our semi-industrial machines combine the flexibility of a modular system with the precision of electronic control, making it easy for you to do the job. Dedicated software programs and web platforms are guaranteeing access to the widest key blanks database and to exclusive online services such as upgradeable technology for the key system solutions.
Traditional / Edge-Cut - Mechanical Operation Key Machines
We offer manual and automatic operation key machines. From small duplicators that are perfect for mobile shops where space is "tight", to large dependable solutions for code cutting and duplication of automotive keys, we have the right machine for your operation.
Traditional / Edge-Cut - Electronic Operation Key Machines
Affordable, precise electronic code cutting and duplication for automotive, cylinder and cruciform keys. Options include automatic depth calibration, an internal database of cut specifications and dependably accurate X-Y tolerances.
Electronic High Security / Laser-Cut Machines
Easy to operate with consistent, accurate results, our laser-cut machines are high performance with precision duplication of laser style keys.
From tubular keys to 4-sided keys for Tibbe locks, we have niche cutters that are engineered for unrivaled precision and accuracy.
Accessories/Tools
We carry all accessories, parts and tools for all the key machines that we carry. This includes cutters, adaptors, brushes and jaws.
QUESTIONS? WE'RE READY!
Do you have a question or a project in the works? Call our Toll Free numbers below with any questions or connect with us via our online Expert Form.